Full-arch Replacement is a term often used interchangeably to describe the process of rebuilding or restoring all of the teeth in an arch. Your periodontist and dentist, who have years of experience working with the materials and procedures related to full-mouth reconstruction, will develop a plan that addresses all your needs and will leave you with a perfect smile, ideal bite, and optimal function.
You may be a candidate for full-mouth reconstruction if:
Your teeth have been lost due to decay or trauma
Your teeth have been injured or fractured
You have severe periodontal disease and your teeth will be lost
Below are options for full arch replacement:
Overdenture
Overdentures are an affordable alternative to full dentures. Lower dentures, in particular, are often unstable due to the lack of stability and location of the tongue. They often rock back and forth making chewing difficult. The placement of two dental implants in the jaw leads to better stability and retention of the denture. Although it must be removed at night like a regular denture, the overdenture often gives patients back more stability during eating and talking.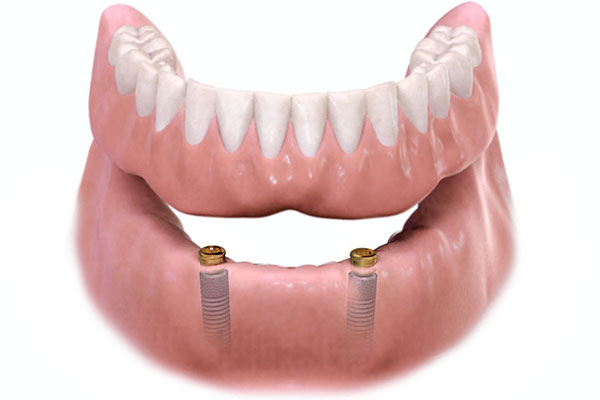 Conus
With the ATLANTIS Conus concept patients will receive a unique cost-effective, friction-retained, prosthetic solution, which will provide them with renewed comfort and confidence. This concept is a removable denture that is stabilized by four dental implants which give it a very tight fit. However, it is still removable and easily cleaned by the patient.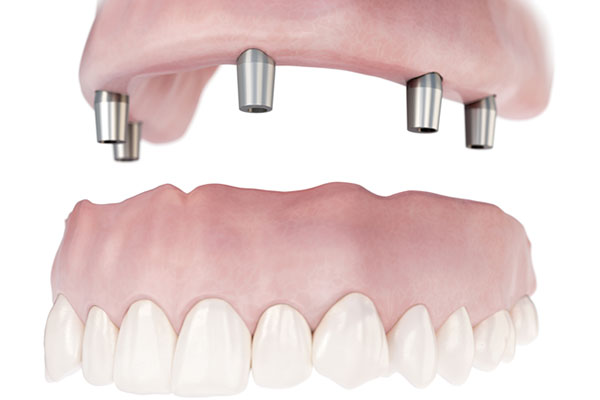 Benefits of a Conus Attachment:
A cost-effective and comfortable implant prosthesis designed for optimal access for oral hygiene

A solution that eliminates the need for design or manual adjustments often associated with dentures (pain or pressure from ill-fitting dentures and atrophy of existing bone that requires relining the denture)

A stable but removable solution that offers the comfort of a fixed restoration